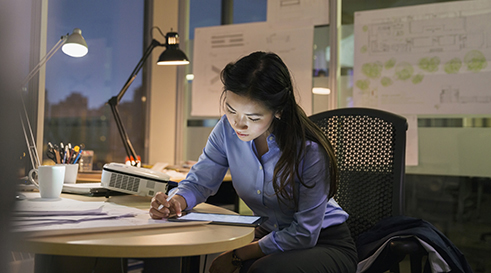 As a small business owner, you have a lot on your plate. From accounting, to marketing and sales, to product development and inventory — the to-do list can seem never ending. That's why it's no surprise that details like liability insurance can so easily slip through the cracks, leaving your business financially vulnerable.
Unfortunately, nearly anyone your business interacts with can make claims against you. And without the right insurance protection, these claims could cripple your operation.
What General Liability Insurance Covers
General liability (GL) coverage can be part of a standalone policy or can be part of a business owner's policy (BOP). This coverage safeguards your business' finances and reputation in the event a customer or third party takes legal action against you or your employees.
The following are types of claims covered by a GL policy:
Bodily injury: If a third party is injured at your place of business (or as a result of work performed away from your business), your GL policy would cover costs, including medical expenses, lost wages, and any court-awarded compensation or out-of-court settlements.
Property: If your business's actions result in damage to someone else's property, your GL policy will cover costs to repair the damage. This applies to real estate, equipment, and supplies, as well as compensation for loss of use during the time it takes for the damaged property to be repaired or replaced.
Personal and advertising injury: If your business causes nonphysical damage to a third party through advertising tactics or other activities, your GL policy will cover these damages. However, coverage does not apply if your business intentionally makes a false statement knowing it will cause harm.
Additionally, if a lawsuit is filed against your business for a covered loss, your GL policy will also cover the legal costs to defend you in addition to your policy limits, including attorney fees and court costs.
GL coverage safeguards your business's finances and reputation in the event a customer or third party takes legal action against you or your employees.
What General Liability Insurance Doesn't Cover
GL coverage does have limits — both in dollar amounts and types of situations covered. This depends on a number of factors, including your specific industry and your business's exposure to visitors and clients.
However, there are a few limits that apply to businesses across the board. GL does not cover the following types of damages:
Workplace injuries: GL normally doesn't cover workplace injuries to employees. Instead, you'll need workers compensation coverage, which is legally required by most states.
Damage to your own property: GL covers damages to other parties' property, but it doesn't cover your business's property. Instead, you'll need a business owner's, inland marine, or commercial property policy.
Intentional damage: Damage done purposefully or maliciously is not covered under a GL policy.
Damage to client property in your care: GL does not cover damage to a customer's property while it is in your care. Inland marine and other property coverages can provide this type of protection.
Professional mistakes: Mistakes resulting in a loss aren't covered by GL. For instance, if your business misprints 10,000 books, general liability coverage won't reimburse you for the cost of reprints. However, many insurers offer separate policies for businesses that require professional liability protection.
Damage to vehicles: This protection requires a commercial auto policy.
While general liability insurance won't cover every incident and expense your business might face, it can protect your business from claims brought against you by third parties — and it's a relatively inexpensive way to create peace of mind.
Contact us today at (248) 682-7445 or info@philkleininsurance.com for more information.